International Women's Day: Kam Dhaliwal #ChooseToChallenge the underrepresentation of women in senior roles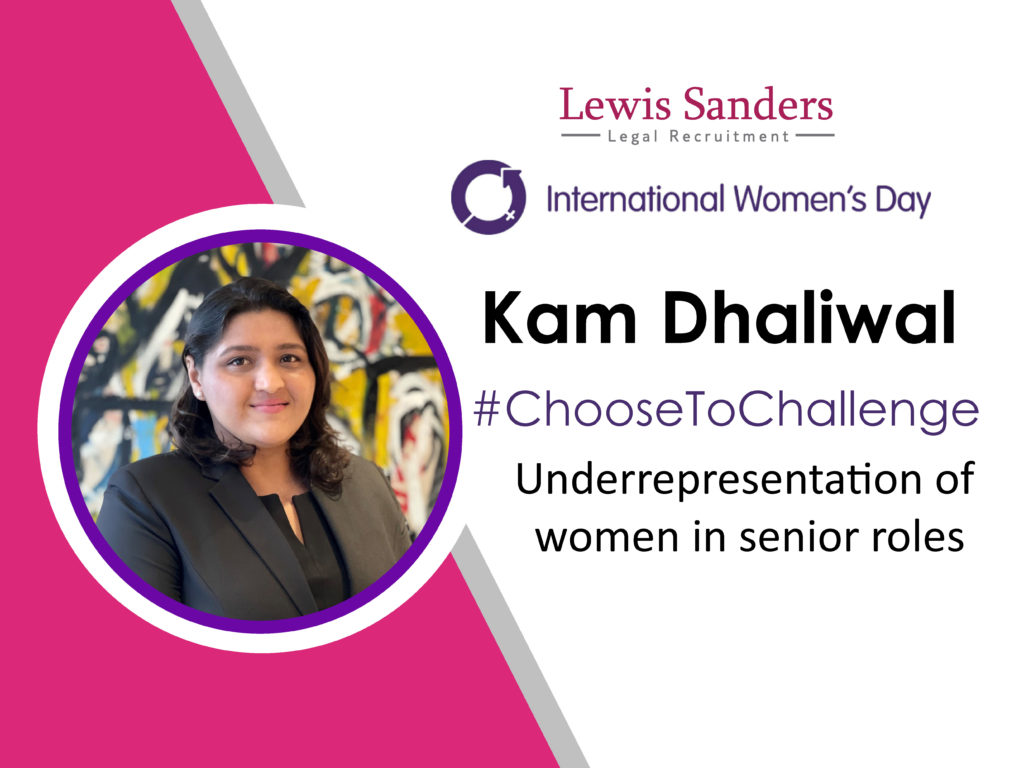 #ChooseToChallenge is the theme for this year's International Women's Day. To support this, we spoke to different women in the legal industry to understand their perspectives on gender equality issues, and asked them what they would #ChooseToChallenge in the workplace and daily life. In this part, Kam Dhaliwal, Associate at Lipman Karas, shared with us her thoughts.
---
Kam Dhaliwal
Associate at Lipman Karas
Kam Dhaliwal is an Associate at well-known disputes resolution firm Lipman Karas. She advises on commercial litigation and related factual and legal investigations, with a focus on major corporate insolvency and audit negligence claims. She is an avid reader and enjoys learning about different cultures, cuisines and languages
---
What gender equality issue(s) would you choose to challenge?
Underrepresentation of women in senior roles in Hong Kong, which is part of the bigger issue of entrenched gender biases.
I recognize that this is not a new topic of conversation and steps have been taken in our industry towards changing the landscape. I have personally witnessed the increase in the number of female partners in practice within my few years in the profession. When I was in my penultimate year of law school interviewing for positions as a trainee in Hong Kong, I definitely saw fewer women in senior roles than I do today. It makes me happy knowing that graduates today are likely to see more women interviewing them than I did back then. However, the ratio of women to men in senior roles is still starkly imbalanced – I think a step in the right direction has been taken, and we need to continue to progress in that direction.
I am fortunate to have worked in firms where diversity and inclusion is a priority, and where efforts have been made to endorse equality. However, this is not yet the norm across the industry. I have worked with some amazing women, many of whom have been vocal about the obstacles they had to overcome in climbing the professional ladder. These female leaders made an effort to challenge obstacles their male counterparts did not face in practice, which is not always the case. We need more of such leaders who recognize obstacles to gender equality and challenge those obstacles. It would take us one step closer to dismantling entrenched biases, hopefully evening out the playing field.
Why do you think this is important?
When I see women in leadership roles, I feel represented and can hope that some of the gender biases that stand in the way of my career progression will be recognized and dismantled. For effective management of a workforce made up of both men and women, it is important that there is equality and equity in the leadership team. If we want to strike a balance, see fairer distribution of opportunities and eliminate gender biases overall, we need to have good representation of women in leadership roles with decision-making powers.
Beyond needing more women in management roles, it is important to have authentic leadership to curb entrenched gender biases. The most effective way to eliminate gender biases is from top to down, with the aim being to have leaders who recognize hindrances to gender equality and who choose to challenge the status quo by taking action. The onus does not just lie on female leaders. We need both male and female leaders to adopt and demonstrate a conscious effort to fight unconscious biases.
My experience is that while women far outnumber men in junior positions, the same numbers do not translate when I look at senior roles. Published statistics tell us that our male counterparts at work are more likely to be promoted before our female counterparts.
I also see an entrenched process of elimination at play due to the difference in thought process between men and women when it comes to family planning. Female friends in the industry frequently share that they have contemplated whether it is time to move in-house or consider an alternative career because they may want to have children in the near future, but I have not noticed a similar thought process amongst male friends. I think this is because women feel the need to choose between a family life or life as a lawyer, and simply do not have the support network or role models in the legal space who inspire them to feel they can do both. Increasing female representation at the leadership level should lead to the adoption of more sustainable business practices which foster female retention in private practice.
What suggestions do you have on how we can take action on this?
It goes without saying that male and female members of staff being provided with equal opportunities would go a long way in removing barriers and hidden glass ceilings. I think firms should make it a priority to have better female representation at the management level and, at the same time, women currently in such positions should take it upon themselves to encourage and advocate for other women in their organizations.
Within the legal industry, I would say we need more transparency and support for women. Take my above example of women having to choose between a family life and professional life. While it is true that most firms now have clear maternity and even paternity leave policies, I think a good support system goes beyond that. For instance, female partners and seniors I have worked with have often shared their experiences and struggles in coming back to work after maternity leave because they were not entrusted with the same level of responsibilities or high level tasks as before, or they had to go the extra mile to re-establish their capabilities. Having transparent policies, for instance, in how work is being delegated or how a promotion will be determined, would help alleviate some of the shadowboxing that women have to deal with.
I also feel that women should be each other's best allies. We should all make the most of each other's experiences, by sharing lessons learnt and offering support to each other. I am grateful for the strong female leaders I have worked with, who have shared with me their personal stories of how they fought against barriers in their own ways. I am still in my early years in the profession and have yet to face the same barriers as them, but having the benefit of hearing their stories, I know that if I were to face a similar struggle I have someone to turn to and ask for advice.
Could you name a woman who you look up to and why.
Kamala Harris sits at the top of a very long list of women I look up to at the moment. Without wanting to sound clichéd, my answer to this question could change on a weekly basis! I find that we are surrounded by women doing new and inspiring things all the time, be it at work or outside work, who are shaping the world one day at a time.
Ms Harris in particular stands out, having broken some monumental barriers to become the first female Vice President of the US. That she is a woman of colour makes it more personal and inspiring for me. Ms Harris' policies and decisions during her time at the Department of Justice in the US may be controversial and her political stance may not necessarily align with my views, but I consider that a part and parcel of life in public office and respect her for the integrity and professionalism she is now known  for. Simply put, she has shown young women around the world that the glass ceiling can be shattered and I look up to her for that.