Lewis Sanders Insider: In-house Q&A with Marco Chung
written by Chris Chu, Director at Lewis Sanders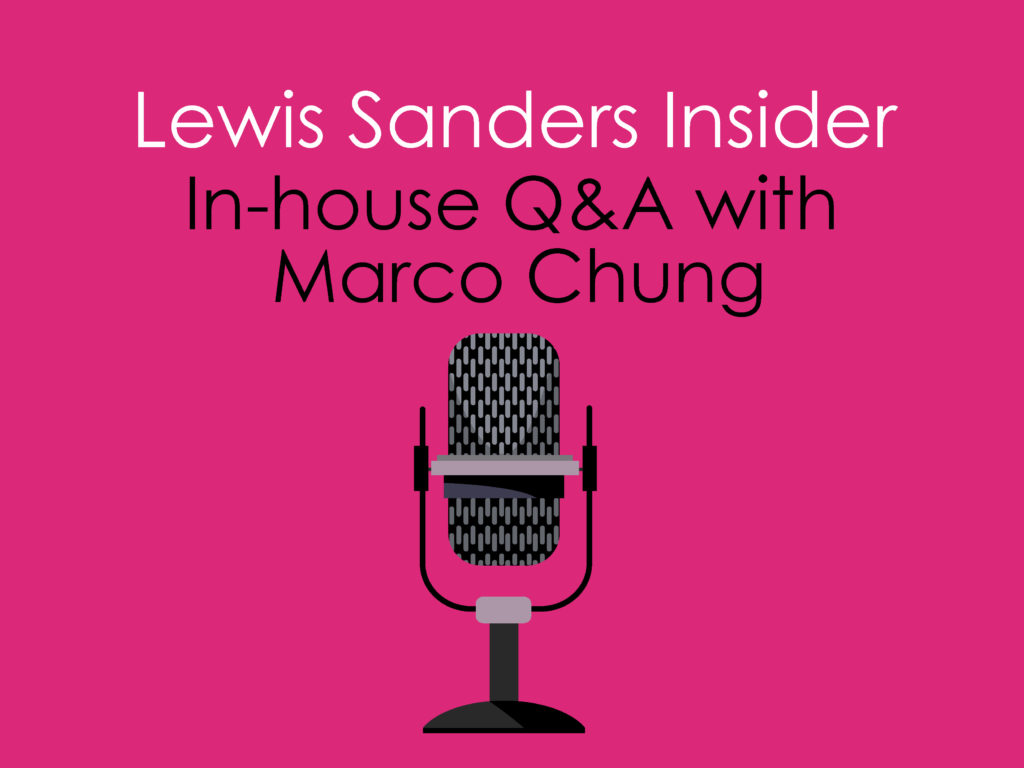 Do top tier organisations always favour candidates from well-known brands? Should you make the move in-house from a law firm? Our Director Chris Chu sat down with a senior lawyer from Morgan Stanley, Marco Chung, to tackle some burning questions that young lawyers may have before making that in-house move.
---
Marco Chung
Regional Head of Legal (Private Funds; IBD M&A) at Morgan Stanley
Marco was awarded M&A Individual of the Year at the 2019 Asia Pacific Counsel Awards and was listed in Legal 500's 2019 and 2018 GC Powerlist for Hong Kong. He regularly speaks at various M&A forums, including most recently at the ALB Asia Cross Border M&A Forum, IFLR M&A Forum (chairing the Emerging Markets panel) and Fund Finance Synopsium in Asia.
---
C: Chris         M: Marco
C: Hi Marco, can you tell us a bit about yourself?
M: Sure. I'm currently at Morgan Stanley. I am the Regional Head of Legal for Private Funds, so that includes the PE funds, infrastructure funds, real estate funds, and fund of funds. I'm also the regional Head of Legal for Investment Banking M&A. I was born in Hong Kong but raised in New Zealand since the age of 10.
C: Age 10 – no wonder your Chinese is so good.
M: Well, I use Chinese every single day. I use it for documents, to negotiate, and in dealing with internal clients. And I have to praise my mum too. In New Zealand, she had a Chinese tutor come to our house every second day to help me and my sister with pinyin and Chinese writing. So mum was helpful – for once (laughs).
C: You've worked at Slaughter and May and Morgan Stanley – both top tier organisations. Do you see any similarities in their leadership culture?
M: They both have a very flat leadership culture, everyone is highly approachable. You can easily go into the most senior person's room to chat about work, the weekend, etc. So I enjoy working at both. When I was at Slaughter and May, most of the people there were "home grown", so we grew up together and spent a lot of time together. Everyone knew each other well.
C: Candidates often feel top tier organisations will naturally favour candidates who are already at other top tier organisations. What's your advice for lawyers who aren't with a top tier brand yet and trying to make the step up?
M: I wouldn't approach it that way. For example, the type of deals we do at Morgan Stanley are very, very varied, and so we need different skillsets and people of diverse backgrounds. Obviously, whether a person can discharge their duties appropriately is super important. But assuming that part is sorted, attitude then becomes equally important. Having the right sort of pedigree is great, but having a can-do attitude is even more critical.
C: The world has changed a lot in the last 10 years and so different career paths and industries have popped up e.g. tech companies, start-ups, social enterprises. What do investment banks still have to offer that's different from all these other options now?
M: Firstly, you'll be able to work with top tier clients, which is demanding and gives you exposure to very good quality work, so this gives you really good training. Number two, your peers or colleagues also tend to have very good qualities, and so you'll be able to learn from them. And third, while you are there you can develop some fantastic contacts – and you carry those for the rest of your life.
C: So the draw is the soft and hard skills you can learn from working with sophisticated clients and high caliber peers, and also the contacts you can build in an investment banking environment.
M: Yes. Morgan Stanley, for example, has a fantastic alumni network Wherever you go there will be people from Morgan Stanley.
C: Do your children know what you do for a living?
M: She knows I'm a lawyer, but she doesn't know the kind of lawyer I am. The way I'm trying to explain to her is that I tell her if someone wants to buy ice-cream, I'm the kind of lawyer who helps the buyer and seller talk to each other about what kind of toppings to put onto the ice-cream, and which part of the ice-cream to buy or carve out.
C: You seriously say "carve out" and she gets it?
M: (laughs) I tell her it means "taking it out" – she gets it. Also, I take a lot of calls at home, and she sees me take them, so now she'll sometimes pretend she's me talking on the phone!
C: What if she actually does want to be a lawyer later on?
M: I would actually encourage that. Even though you may or may not want to be a lawyer for your whole life, it equips you with skills for other things too, such as analytical, presentation, and drafting skills – and I'd like her to have those skills. She doesn't have to be a lawyer for her whole life, but it's something good to start with.
C: Still on family and work-life balance, what's one or two things which you do, and which other people can also do, to keep a good work-life balance?
M: I have my team build a pretty sophisticated spreadsheet telling me where each project is at, the risks, next steps etc – and I can access that from my mobile at any time. So what I'm saying is that having a good system to manage your priorities is hugely important. Everyone is busy, but you can always manage your priorities.
C: So in a nutshell, your work-life balance tip is  stay organised to manage stress.
M: Absolutely.
C: I know your office is at the ICC, or "the dark side", as expats in particular like to call it. Many firms have now either made the move over or are thinking about it, or at least moved outside Central to places like Quarry Bay. Some lawyers have adapted to the idea, and some even prefer working away from the insanity that is Central, but some are still not entirely sold. Do you like working away from Central, and if so, can you do a "sell" on it?
M: Well think about it right, even law firms are moving out of Central. If you eliminate jobs based on location only, then you're really limiting yourself. If you take say Central, Admiralty, Causeway Bay, ICC, Quarry Bay, I would rank ICC very high. If you need to travel a lot, going to the airport from ICC is very convenient. Coming to Central is also very convenient. The ICC mall has everything, great shopping, great restaurants, and it's not as crowded as the IFC. If you drive to work, it's much cheaper parking than Central. You can also live in more reasonably priced areas, like Olympic, which is right next to the ICC. I actually like ICC very much.
C: One last question – for someone who's thinking about making the move from a law firm to an in-house role but is a bit unsure, what would you advise them?
M: Well, you need to know what you want, and why you're moving, and that you're not making the move just because everyone else at 5 PQE is moving in-house. For me, it was very simple. I wanted to do more deals and going to Morgan Stanley to do PE gave me a lot more deal exposure, not just Hong Kong law and English law deals, but also deals in the PRC, Thailand, Cambodia, Australia, Korea, and so on. You need to know what you want, and whether a particular in-house role will satisfy that.
An excerpt of this interview is published in Asian-Mena Counsel Magazine Volumn 17. Issue 3 2020
https://www.inhousecommunity.com/article/asian-mena-counsel-magazine-march-2020-including-projects-energy-report-interactive-version/