In-house Hot Picks of the Week
We have a number of great in-house roles in Hong Kong. Please get in touch with our team Chris Chu or Roshan Hingorani to find out more.
If you have any questions about moving in-house, there are some great articles and interviews written by our team that may give you some inspirations.
𝐋𝐞𝐰𝐢𝐬 𝐒𝐚𝐧𝐝𝐞𝐫𝐬 𝐈𝐧𝐬𝐢𝐝𝐞𝐫: 𝐈𝐧-𝐡𝐨𝐮𝐬𝐞 𝐐&𝐀 𝐰𝐢𝐭𝐡 𝐓𝐢𝐦𝐨𝐭𝐡𝐲 𝐌𝐚
https://lnkd.in/gDBKA7K
𝐋𝐞𝐰𝐢𝐬 𝐒𝐚𝐧𝐝𝐞𝐫𝐬 𝐈𝐧𝐬𝐢𝐝𝐞𝐫: 𝐈𝐧-𝐡𝐨𝐮𝐬𝐞 𝐐&𝐀 𝐰𝐢𝐭𝐡 𝐌𝐚𝐫𝐜𝐨 𝐂𝐡𝐮𝐧𝐠
https://lnkd.in/fJXhDZT
𝐌𝐨𝐯𝐢𝐧𝐠 𝐢𝐧-𝐡𝐨𝐮𝐬𝐞 – 𝐰𝐡𝐚𝐭 𝐭𝐨 𝐞𝐱𝐩𝐞𝐜𝐭 𝐚𝐧𝐝 𝐭𝐢𝐩𝐬 𝐭𝐨 𝐬𝐦𝐨𝐨𝐭𝐡𝐞𝐧 𝐭𝐡𝐞 𝐭𝐫𝐚𝐧𝐬𝐢𝐭𝐢𝐨𝐧
https://lnkd.in/g3VgpUv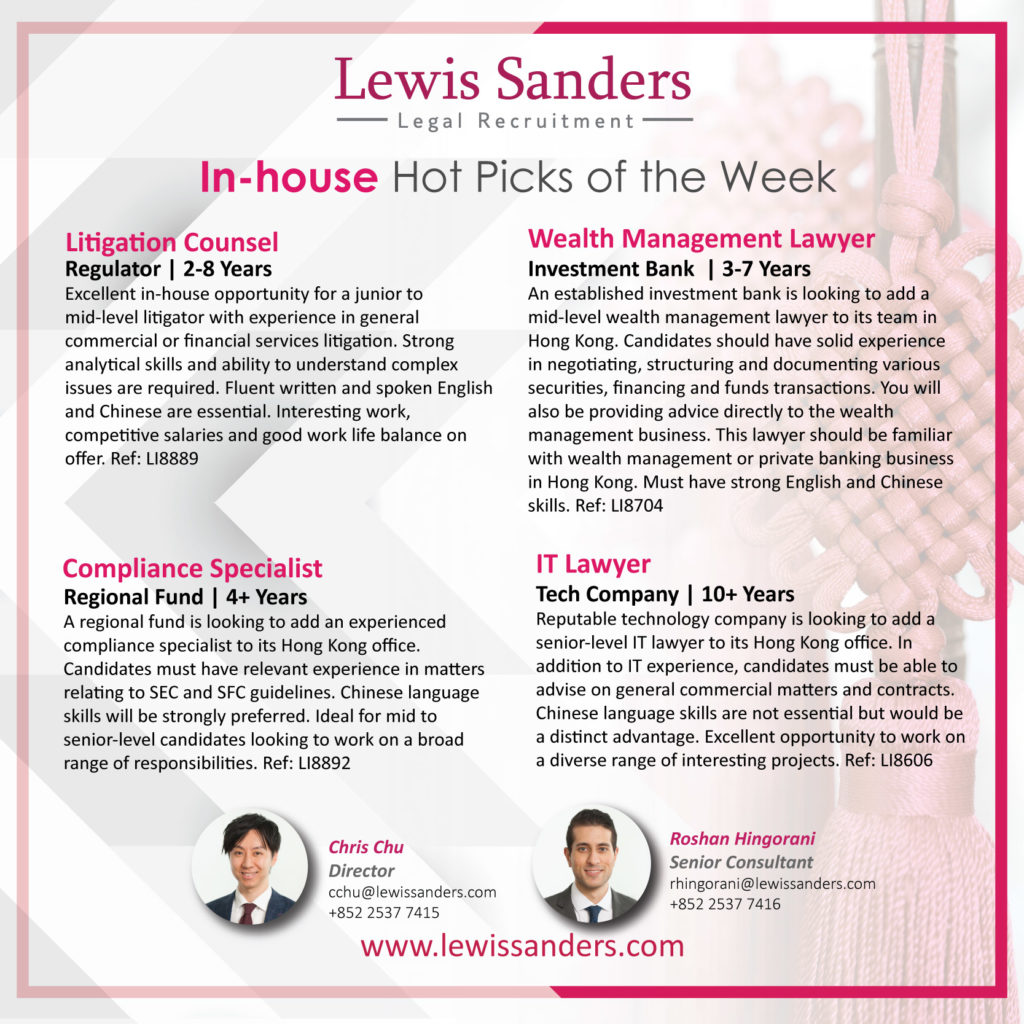 Apply now: